Books come to life for Holy Family's Book Week spectacular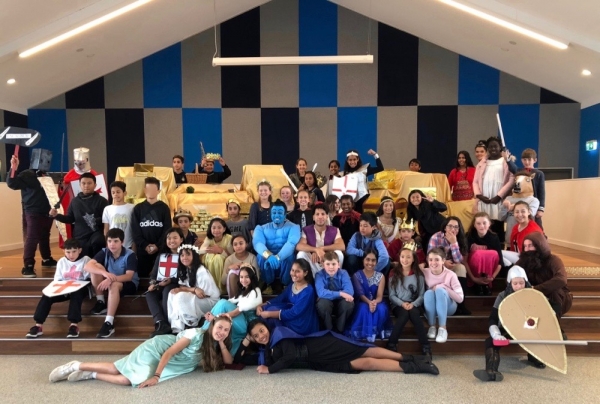 At Holy Family Ingleburn, our students and staff wholeheartedly embrace the occasion of Book Week. Our school uses the week to bring books to life in a distinctly engaging and memorable way – threading our book parade into an exciting Book Week performance that gets the whole school community involved.
Students, teachers, parents, siblings, grandparents and parishioners all packed into Holy Family's new hall last Friday to take part in what has become a highlight of the annual school calendar.
The staff combine their writing, musical and drama talents to create a spectacular feature event – led by the school's librarian, Dianne Winarczyk, who writes an original script inspired by the storyline or characters of a well-known children's book.
"It's an exercise in creative thinking!" Ms Winarczyk laughed. "We like to make the event theatrical, re-tell the books in a unique and entertaining way and create a little bit of magic for the children."
This year's Book Week theme, 'Find Your Treasure', saw the students watching Aladdin enter the Cave of Wonders, find the magical lamp and conjure a genie. Aladdin and the genie explore all manner of treasures through Aladdin being granted seven wishes - each wish proudly represented by a year group from Kindergarten to Year 6.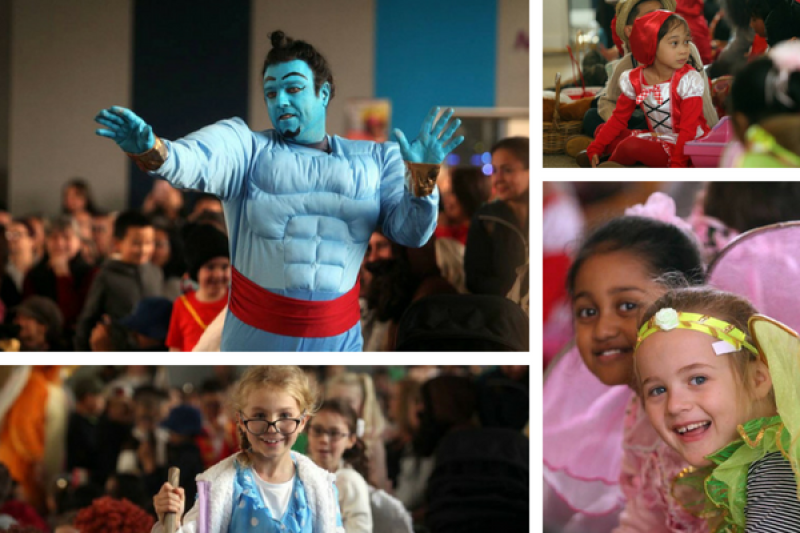 "Our students dress to represent particular books and their appearance in costume is woven into the narrative of the script, effectively allowing them to become a part of the performance," Ms Winarczyk said.
"For example, when he wishes to fall in love, the genie gives him a touch of Cinderella. The grade who have dressed to represent Cinderella then parade around with accompanying music," she explained, "When Aladdin wishes to be brave, the genie grants him bravery like King Arthur. The grade dressed to represent King Arthur and his Knights of the Round Table then parades around to music related to the story."
Wish 1: To fall in love (Cinderella)
Wish 2: To have adventures (Tashi series by Anna Fienberg)
Wish 3: To be brave (King Arthur and his Knights of the Round Table by Roger Lancelyn Green)
Wish 4: To be clever (Little Red Riding Hood)
Wish 5: To be rich (King Midas and his Golden Touch)
Wish 6: To have magical powers (The Magic Faraway Tree series by Enid Blyton)
Wish 7: To believe in yourself (Little Orphan Annie comic strip by Harold Gray)
After making all seven wishes to the fanfare of seven processions of different colours, sequins and sparkle - and many laughs along the way - the performance ends with Aladdin realising that he doesn't need all the 'treasures' he's wished for - just his final one. The ultimate treasure is believing in yourself, he discovers, to the elated applause and cheers of the few hundred gathered.
"So the treasure was inside him all along," Ms Winarczyk said, "It was a huge success, the staff and students had a ball."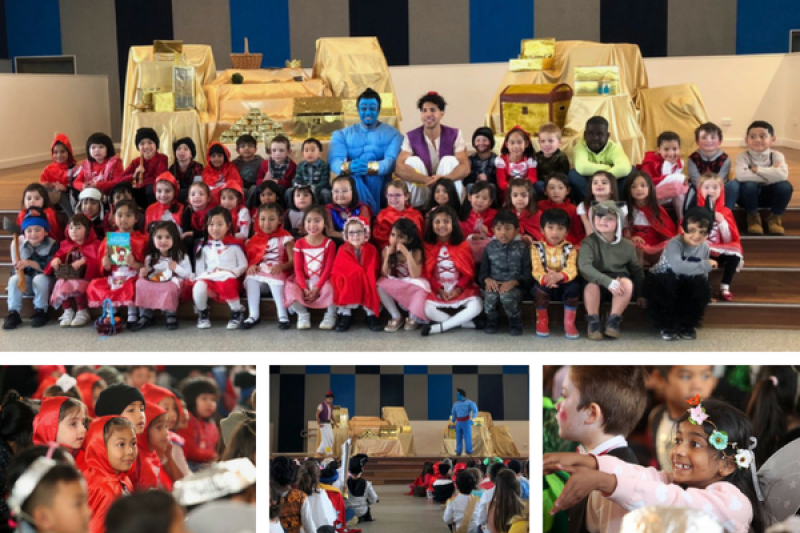 The students were excited to enjoy the rest of the day dressed in costume, and in many classrooms the impact of the performance and Book Week theme was reiterated through various learning activities.
In past years, this must-see Book Week event has found students invited to the Mad Hatter's tea party, as seen in Alice in Wonderland; sorted into book-related Hogwarts houses at a sorting ceremony; and turned into 'book rooms' at Willy Wonka's Book Factory.
"We're really proud of the work we do for our Book Week parade and performance. We all look forward to it every year. It is a big job to put it together, but over the years we've refined the process," Ms Winarczyk said.
"What makes the event particularly special is the team effort. The main actors in the parade are our ex-colleague and CEDoW Youth Ministry Officer, Joel Duval; and our chaplain, Grant Dodds. One of our staff members owns sound equipment, so he takes care of that side of things. I often have some help from other colleagues to create props and the set, too.
"They all give their own time and talent to help out – not because they have to, but because we all realise that together, we create a very special experience for our students."